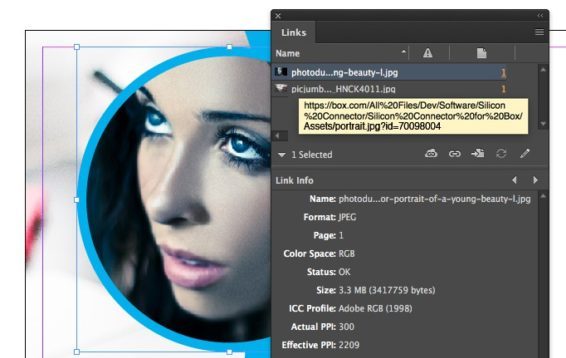 Silicon Connector was conceived by Silicon Publishing in 2010, when they were building a large-scale online editing solution for their client. The solution was based on Adobe InDesign and Adobe InDesign Server.
URL-based links from Adobe InDesign
The truly unique and most powerful aspect of Connector is found in its InDesign plugins. Built in C++, they enable low-level (and therefore much more efficient & optimized) URL-based linking. Just by using the C++ plugin, end-users can drag and drop assets from the DAM's interface into Adobe InDesign, creating a URL-based link.
When the linked asset changes in the DAM, InDesign is aware of it. There is also powerful support for high-res/low-res workflows, in which the users can toggle single links (or all links) in the document between high-res and low-res versions of the assets.
In-app Navigation and Photoshop/Illustrator support
After deploying several InDesign-only Connectors, our customers demanded two important things: navigation of assets from right within InDesign, and Connector support for other Creative Cloud applications. Although the linking technology for the other CC applications is not as sophisticated as what we developed for InDesign, it does support asset navigation, as well as single-asset check-in and check-out from most Adobe Creative Cloud applications.
This means that as of today, Connector offers Photoshop, Illustrator, Premiere and After Effects users a basic but expanding suite of functionality. In addition to the much deeper feature set of InDesign: a single install adds Connector to all supported Creative Cloud applications. The in-app navigation for CC Applications is built with CC Extension technology.
The three places Silicon Connector is a better approach
Certainly organizations worked with InDesign and DAMs long before Silicon Connector existed. Our company specializes in InDesign automation, so we were the ones writing scripts for many organizations using many different DAMs that did things like:
Move assets from place to place, downloading from remote/web servers or moving between servers on the network
Re-link when exchanging InDesign files or moving their associated assets
Validate that linked assets were actually present when assets were moved from location to location
Certainly there's always a way to make things work, and organizations can adapt to cumbersome, brittle workflow. But this all becomes so much easier with Connector. We see different advantages of Connector depending on the type of DAM and the way the DAM is used.
On-premise DAMs
The first two DAMs we encountered, Day Software and MediaBeacon, were on-premise. We have had thousands of Connector users with on-premise DAMs for many years, and while Cloud is steadily increasing in viability and usage, we
The advantage of Silicon Connector in the case of on-premise DAMs boils down to:
Management of URLs is more in line with the way the DAM itself conceives of assets
With a URL-based link, there is no re-linking required when moving InDesign files (which can otherwise be cumbersome, especially when moving between Mac and PC)
Remote users have far faster access with connector than with alternative approaches such as WebDAV
I remember when WebDAV first came out, and it seemed to have such great promise. I do not fully understand why it is so slow, but it truly fails to provide satisfactory speed and especially has issues as you scale. Connector does not need to navigate folders or interrogate file systems, the URL points straight to the asset. We have rescued several deployments from the latency and in some cases non-usability of WebDAV-based solutions.